St. Marys Carbon Company, a global supplier and manufacturer of carbon and carbon-graphite components, is proud to announce its recent certification of the prestigious AS/EN/JISQ 9100:2009 – Quality Management Systems: Aviation, Space, and Defense Organizations certification.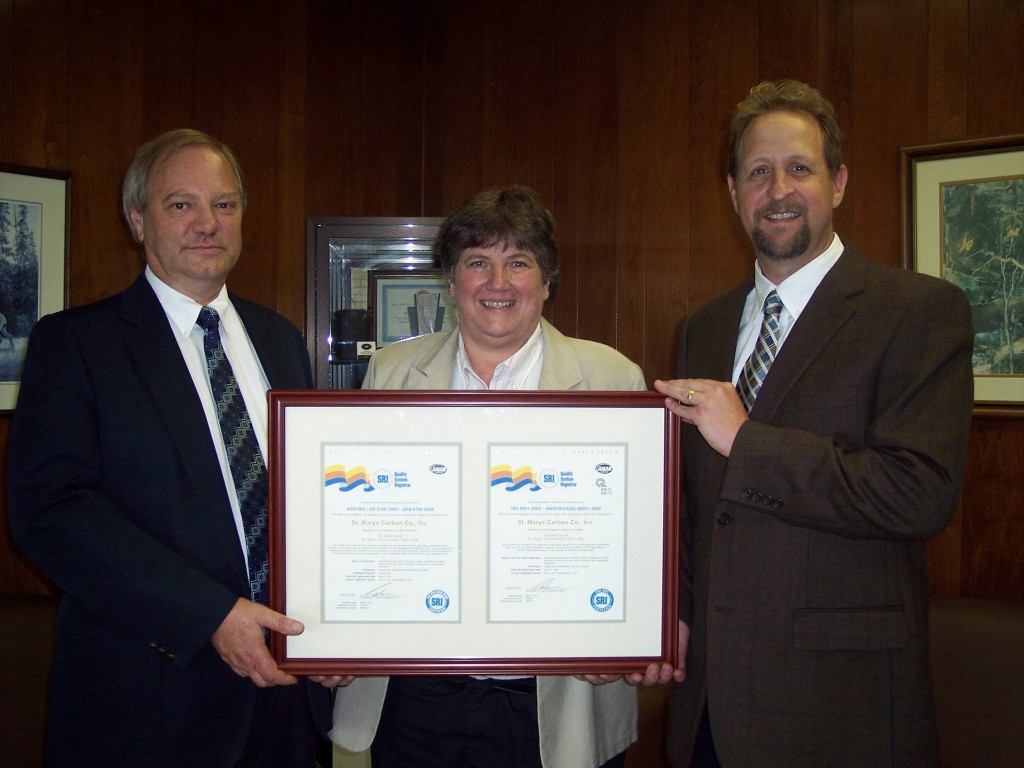 AS/EN/JISQ 9100:2009 is an international management system standard for the aerospace industry based upon ISO 9001:2008. Certification recognizes organizations that can link business objectives with operating effectiveness. Companies that achieve Management System certification have demonstrated effective implementation of documentation and records management, top management's commitment to their customers, establishment of clear policy, good planning and implementation, resource management, efficient process control, measurement, and analysis. Continual improvement has been institutionalized.
AS/EN/JISQ 9100:2009 is endorsed by all major aerospace regulators, including:
Federal Aviation Administration (FAA)
U.S. Department of Defense (DoD)
National Aeronautics and Space Administration (NASA)
The certification process is conducted by a third party registrar whereby an extensive on-site audit over two stages is administered for compliance to the standard. Noted from the third party registrar, SRI, they had this to say, "SRI Quality System Registrar is pleased to announce that it has recently awarded an AS/EN/JISQ 9100:2009 Management System certificate to St. Marys Carbon Co., Inc., located in St. Marys, Pennsylvania, for the manufacture and supply of carbon, carbon – graphite, and metal graphite products."
According to A. Joseph Falcsik, SRI's Vice President, Certification: "We are pleased to acknowledge that St. Marys Carbon Co., Inc. has demonstrated effective implementation of a management system. AS/EN/JISQ 9100:2009 certification provides evidence to customers, suppliers, employees, and their community of their commitment to producing a quality product (service) and providing customer satisfaction."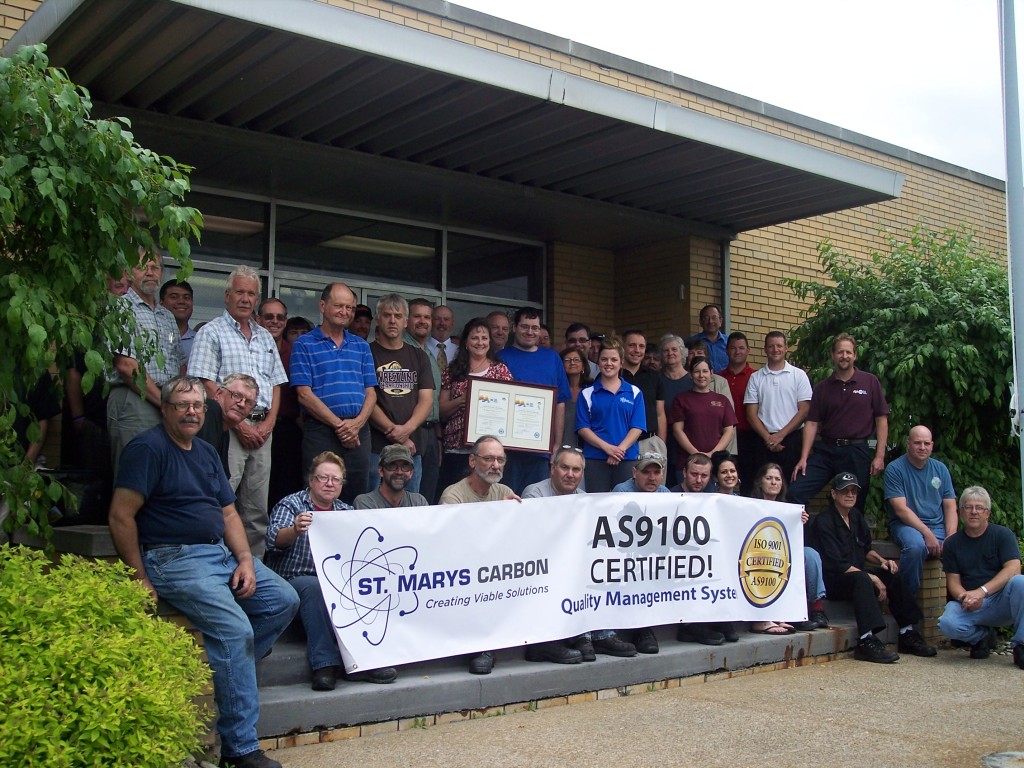 SRI Quality System Registrar is an internationally accredited registrar for management systems standards, such as ISO 9001, AS9100, ISO/TS 16949, ISO 13485, and environmental management systems standards such as ISO 14001. SRI also provides public training for auditing, implementing, and maintaining these standards.
Joe Lanzel, VP of Technology and Engineering at St. Marys Carbon commented, "We were very pleased with the audit. While we often think we are doing things the right way, this certification requires St .Marys Carbon to look at our process, quality metrics, supply chain & procurement, and customer satisfaction in a very structured manner. The documentation insures proper procedures are carried out, ultimately insuring that the final product meets the application requirements; certainly a vital quality requirement in the aerospace sector, among others."
"We worked very hard preparing for the audit which took about nine months to review all of our processes just to start the first stage of the audit. It was by far the most comprehensive audit I have ever been involved in and we have been ISO certified since 1998," said Pam Gavazzi, Quality Manager of St. Marys Carbon.
St. Marys Carbon recently held an appreciation event at their facility, along with a catered meal for all employees. All of the staff and employees had a chance to celebrate the official certification presentation with noted comments from the management team.
"The focus of St. Marys Carbon is to continue to serve the carbon and carbon-graphite markets where our products have a differentiating offering in performance and our personalized service to our customers are solution driven. We see further market opportunity in the aerospace sector and we know our products will meet all required specifications. I am very proud of the entire team at St. Marys Carbon to achieve this remarkable quality standard," noted James Slay, COO. "Our future is bright, our team is strong, and we are aligned in the right markets to substantially grow in the coming months. This certification will allow us to work in markets previously not available to us and will only broaden our position, both domestically and internationally. Furthermore, this certification, in part, will have a positive impact on our local community in the form of new, higher skilled jobs. St. Mary Carbon has a laser focus on our company's objectives and our AS9100 certification is only part of a much larger picture," concluded Mr. Slay.